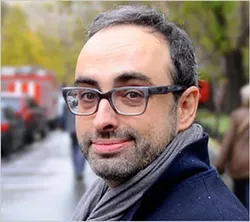 James Franco. Now that I have your attention, Gary Shteyngart's new book is on shelves today. In Shteyngart's promotional video for his latest work, Little Failure, audiences can tell he's a master of satire without any prior knowledge of his writing. The four-minute book trailer depicts Shteyngart married to Hollywood heartthrob James Franco (PDA included) who has published an "erotic journey" novel about their love, stealing Shteyngart's thunder. Nobody wants to read Little Failure—a coffee shop worker (the same barista in HBO's Girls) won't even accept it in his tip jar. Shteyngart's publicists in the video (played by Rashida Jones and Paul Giamatti) reject his prospective titles of the novel, which poke fun at high brow works of literature. It is decided that the work is to be called "Little" because of the author's small stature, and "Failure," because...well, he's a failure. While sitting in his kitchen in a pink bathrobe, Shteyngart whines to his husband about the title—"Failure? After the hundreds of books I've sold for Random House! After I've been translated into one language!" Franco replies, "Canadian isn't a language, baby."
Despite his careful self-deprecation, Gary Shteyngart has made his mark in literature far before calling in an army of celebrities. He's a New York Times bestseller with a knack for capturing loss, best known for works like The Russian Debutante's Handbook, Absurdistan, and Super Sad True Love Story. Absurdistan was named 10 best books of 2006 by New York Times Book Review and Time. Despite his modesty, he was named "Best Young American Novelist" by Granta, "Best Writer Under 40" by the New Yorker, and won numerous awards including the National Jewish Book Award for fiction.
Shteyngart was born into a Jewish family in the former USSR in an area now known as St. Petersburg, Russia. He packed up his memories and immigrated to the US at age seven. His heritage, upbringing, and travel knowledge are clear components to his writing, especially vital to his memoir Little Failure. He is known for his popular collection of book jacket blurbs, along with his effortless ability to make readers laugh. Bestselling author of Lit, The Liars' Club Mary Karr described Little Failure as, "a memoir for the ages. I spat laughter on the first page and closed the last with wet eyes."
Gary Shteyngart gives the annual Alex Krieger '95 memorial lecture at Vassar College this year. He will be honoring the memory of Krieger, a Vassar student whose love for American writing inspired the lecture series. The free event takes place March 27, at 8pm, where the author will read from his memoir and answer questions from the audience. For more information visit Vassar.edu.