House-made brioche bread with sea salt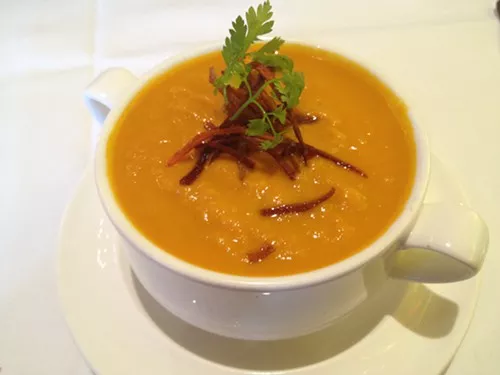 Roasted Carrot and Apple soup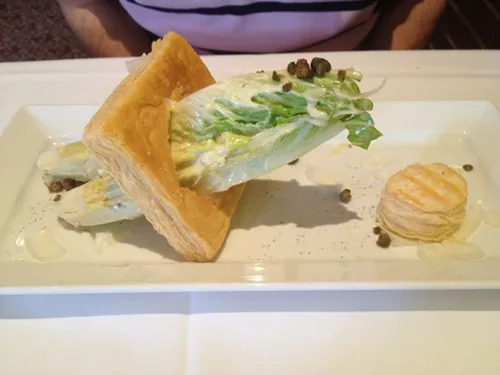 Sauteed Dorade with purple potato, leek puree & brussel sprouts
organic quinoa-filled whole wheat crepes, with quinoa chili, cilantro rice, guacamole sour cream, and tomata picco de gallo.
White Chocolate & Chestnut Dessert
For Hudson Valley Restaurant Week, we like to try out a restaurant that we haven't been to yet, and last week we made lunch reservations at American Bounty restaurant at the Culinary Institute of America in Hyde Park. During the last HVRW we had "The Lunch of the Year" at Bocuse Restaurant at the CIA so we were ready to be pampered and wowed again. From the moment I step foot on the campus, I feel as if I'm on a mini-vacation. Perhaps it's the anticipation of an interesting meal? I love seeing the students walk around in chef shirts and how they speak in hushed tones in the hallways.
The decor in American Bounty is elegant, but less modern than Bocuse. American Bounty didn't have a special HVRW menu. Our server said that we could choose one item from each menu column (an appetizer and an entree) and when it came to dessert, we could pick whatever we liked. There were a few items that cost a few dollars more if you ordered the prix-fixe HVRW plan.
Soon a beautiful pan of house-made brioche with sea salt and butter was served to us. The brioche was just as moist and flaky as it is in French bakeries and we couldn't resist finishing all six pieces with butter. Since my husband is giving up meat, chicken, and pork for lent, and I'm being a copycat just for moral support, we were happy to see a few vegetarian and fish selections. Tom started with the Cheese Platter of locally made cheeses. (We asked them to hold the salami). We ordered an additional ceasar salad to share. I started with the roasted carrot and apple puree soup.
Each cheese had its own intense flavor. The hard cheese was too strong for my taste, but Tom enjoyed all them. The caesar salad at American Bounty is a work of art. I have seen my share of Caesar salads since it's one of Tom's favorite menu items to order, but I've never seen a head of lettuce pierce through a crust like this.
For our entree, I ordered the Sauteed Dorade with purple potatoes, brussel sprout ragu, sweet leek purree, and herbed oil. The skin was very crispy and perfectly salted. Tom had the organic quinoa-filled whole wheat crepes, with quinoa chili, cilantro rice, guacamole sour cream, and tomata picco de gallo. The whole wheat crepes were very hearty and delicious.
As we were debating about which dessert to order, I told Tom that I might get the "Milk & Cookies" dessert because it came with a small vanilla rum shake which would look nice on the blog. I think the server overheard me because he said, "If you're looking for something that is really unique and has a different presentation, go with the White Chocolate & Chestnut." He paused and waved his arms. "It's really an amazing presentation," he added.
"Say no more!" I said. When this came out, I was so focused on my dessert, I barely paid attention to Tom and his dessert, which he said was delicious. The description didn't give the presentation away: White Chocolate & Chestnut, coffee ice cream, chestnut cake, white chocolate "caviar" and kahlua sauce. I thought the server was offering me a white chocolate balloon! It was one of the most surprising desserts I've had in recent memory. I was told the chef covers a balloon with white chocolate and then pops it once it cools off to a certain temperature. The warm kahlua sauce is poured over it, right at the table. I had a sugar buzz after devouring all this white chocolate! The inside was delicious as well. I would definitely recommend American Bounty if you are looking for a fine dining experience in the Hudson Valley, or a very different kind of lunch date with a spectacular dessert.
Follow Hudson Valley Good Stuff, a blog I started 5 years ago about where to eat, play and recharge your spirit in the Hudson Valley for more good stuff. Please sign up for my newsletter too!