All geared up at The Learning Center at Hunter Mountain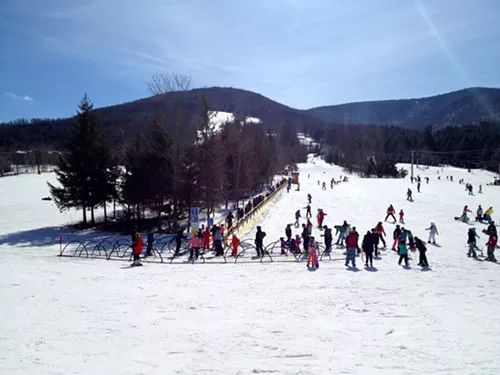 Carpet Ride at Hunter Mountain
Snowboarding Progression Session Lessons Begin Here
I have been curious about snowboarding for a long time, and last Sunday Hunter Mountain invited me to check out a new package they have for beginners called the "Single Pack" which includes equipment rental, a 90-minute progression zone lesson, and a lower mountain lift ticket (or carpet ride ticket) for $79. I arrived there around 12:45pm, and Becky Pines, marketing and communications manager for Hunter Mountain, helped me check-in and get my gear. At that hour it is not crowded at all though so it was very smooth sailing. You can do a self check-in via computer, and then from there everything is easy to find. Helmets are strongly encouraged. (I bought my snazzy new ski goggles on sale at Potter Brothers hoping that I enjoy the sport enough to use them again one day!).
Once I got my gear, Becky sent me on my way and I was told to stand by the orange flags and an instructor would lead a group lesson soon. On weekends the group lessons are organized in a Progression Sessions Zones on-demand from 9am-2pm. The lessons are 90 minutes long. I hobbled over to Zone 1, carrying my snowboard for the first time. There was a young man there eagerly waiting, then two women joined us. Our instructor Dave, a young laid back guy joined us and gave us a crash course on snowboarding lingo. At this point, he showed us how to strap one boot on to the board. He was very patient with me. I'm a tough case. No, I've never skateboarded or been on a surf board, and the last time I went skiing Clinton was in office.
I'm reasonably fit, but snowboarding requires you to use all kinds of muscles and movements you just don't use in every day life. I was nervous. I struggled to even get my boot in the snowboard strap, and at one point I heaved over losing my balance in the process. "Whoa, I got ya!" he said, catching my forward fall. At first members of the group took turns attempting beginner moves turning toe-side and heel side, and then after a few falls and successes, everyone practiced on their own while the instructors looked on offering suggestions here and there. Dave saw me struggling, trying to walk up the hill sideways with my one boot strapped on, and taught me a better way to walk up the hill. I was grateful for that. I soon moved on to Zone 2, where instructor Marty was trying to teach us how to stop and turn. I never quite made it to Zone 3.
It was a gorgeous 45F and sunny day. I wore thin leggings underneath a snowsuit, and a sweater. I was perspiring like crazy, and very thirsty, but my endorphins were in high gear, even though every time I went down that gentle slope, and tried following instructions (keep your knees bent slightly, lean into your heels to have control of the board, dip your shoulder this way and that), I'd crash land. Twice I landed on my behind, and twice I landed on my arms. Landing on your buttocks is a lot better! Once I landed at the foot of a clueless couple who were kissing as they waited to go on the carpet ride. I had in my mind to try the Carpet Lift, but you really have to be comfortable and have both boots strapped in to be able to go on it, and it was a challenge for me to just navigate the bunny slope we were using for our lesson so I told myself that I'd save that for next time.
There are 3 Zones in the Progression Session that Hunter Mountain offers between 9am and 2pm for beginners. I think I ended up in Zone 2.5. As the instructors will tell you, everyone learns at their own pace. What I learned is that when it comes to snowboarding, I'm a very slow learner. I think it is mind over body though. One young woman in my group, got the hang of it right away, and just sailed on through the Zones. That is a great thing about the Progression Session is that if there are slow pokes in your group, and you are coasting through the lessons, you can just move on to the next zone independently. I had fun trying snowboarding, but I knew that I wasn't getting it yet. Dave and Marty kept on saying, how once you get it, then all of a sudden it's easy and fun. After 90 minutes and a few texts from my husband enticing me with donuts, I felt winded from the exertion of my first snowboarding lesson. I asked Marty if I was free to go. He said I could stay until 4pm if I wished, but everyone is free to go as they please.
After one last attempt down hill, Marty asked me, "So, what made you decide to try snowboarding?" I guess my snowboarding moves did not impress him. He must think I'm an undercover customer. I had to laugh! That's when I told him about Hudson Valley Good Stuff blog, and that it is something that I've wanted to try for a long time. The Catskills are well known for snowsports and I want to be able to share my adventures with readers. (What I forgot to tell him was how I loved watching snowboarding portion of the Winter Olympics, and what I loved most about the female snowboarders, was that they all seemed to just want to go out there for the fun of it, and competition seemed secondary. I loved their outfits too.
I grabbed two bottles of water after I returned my equipment, and my husband picked me up. As I was returning my snowboard, I overheard a French woman tell her companion,"Franchement, je préféré m'asseoir au soleil maintenant." Loosely translated: Honestly, I prefer to just sit in the sun right now. I was feeling the same way, but very happy to have had the experience. My husband told me I had a "snowboarder's glow" when he picked me up. If you are thinking of trying out snowboarding, Hunter Mountain is a great place to do it. They just announced yesterday that they are extending their season until at least April 13th in 2014 with new specials. You can check them out at "March Into Spring Pass" at the Hunter Mountain website.
Follow Vanessa Ahern at Hudson Valley Good Stuff, a blog about where to eat, play & recharge your spirit in the Hudson Valley.