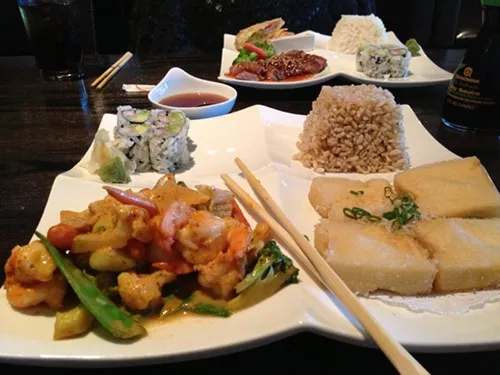 Bento Box Lunch Specials at Kodomo Asian Bistro
My friend and I had a delicious lunch at the new Kodomo Asian Bistro in Kings Mall in Kingston last Friday. It's hard to see the elegant interior from the outside. The place is spotless, spacious with elegant dark decor. We were there around 12 noon and it wasn't too crowded, but I think people just don't know about it yet. We were seated right away. Kodomo has an extensive menu with mostly Japanese dishes and a few Thai curry dishes, and a few Indian-themed dishes. The $10 Bento Box Lunch special is a great deal. Other menu items such as filet mignon and rack of lamb are in the $20 and up.
I ordered the Bento Box Lunch Special for $10, which includes a salad, soup, 1 entree, 1 appetizer choice, as well as California rolls. For my appetizer I chose the aged tofu, and the Thai curry shrimp for my entree choice. The server said it would just mildly spicy, and she was right. My friend had the Bento Box Special with the char-grilled terriyaki steak. She liked hers as well. I requested brown rice instead of white rice with mine for 50 cents more. My friend doesn't like avocado so she gave me her California rolls, which I was grateful for because they were very good. The servers are very attentive. I hope more people will find out about this place. Next door there is a very cute self-serve Frozen Yogurt Lounge too.
Writer Vanessa Geneva Ahern writes about where to eat, play & recharge your spirit on her blog, Hudson Valley Good Stuff.