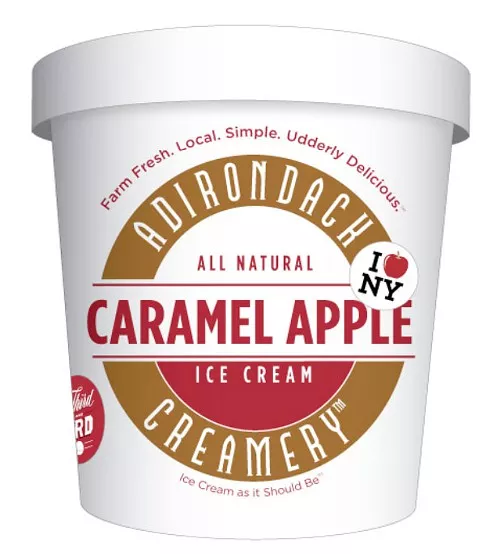 I scream, you scream, we all scream for...Adirondack Creamery's caramel apple ice cream!
The creamery, located in Kingston, has recently added the 100 percent locally-flavored "caramel apple" to its repertoire of seasonal ice cream flavors aside pumpkin pie, egg nog, and peppermint sticks.
Meant to capture the essence of apple picking in the northeast, this innovative flavor sources empire apples from Wright's Farm in Garndiner. The creamery has also gathered naturally-made caramel from Cooper Street Kitchen in Stone Ridge to compliment to freshness of the apples.
"Creating an ice cream using apples seemed like a natural for us," says Paul Nasrani, founder and owner of Adirondack Creamery, "especially being based in the Hudson Valley."
The remaining ingredients, the nuts and bolts of the ice cream making process, come from Boice Bros. Dairy in Kingston. In 2006, Adirondack creamery discovered the Boice family's farm, subsequently crafting each of its flavors from a old-fashioned recipe of cream, milk, sugar, and egg yolk. The creamery has since operated inside the dairy, shaping ice creams from the hormone-free milk delivered by eight different family farms.
Courtesy of the creamery, Chronogram was given the opportunity to taste the anticipated flavor. Though sitting in the freezer for a while, the ice cream remained soft and silky—not too soft that it melted instantly, but soft enough to scoop it directly from the pint without breaking your wrist or spoon. It looked almost like a vanilla with caramel swirls sporadically infused within its bindings.
Nevertheless, the flavor tastes as rich, creamy, and delectable as the creamery had professed. Upon impact, the caramel flavor dominated our taste buds. Its sugary saltiness was powerful, but not unbearable. The apple's fresh bitter-yet-sweet pungency soon followed, melding into an aftertaste that blended the two proportionally. The flavors seem to have been draped upon a base of vanilla that lingers throughout the entirety of the tasting.
Chronogram was lucky enough to sample two more of the seasonal flavors—pumpkin pie and egg nog—and I must say that, though all were tasty, my personal favorite was, in fact, the caramel apple.
Adirondack Creamery's limited-edition flavor will be sold exclusively in the New York City region at the new Whole Foods Market in Brooklyn and at Adams Fairacre Farms in the Mid-Hudson Valley.
Visit Adirondack Creamery to learn more about the new seasonal flavor.