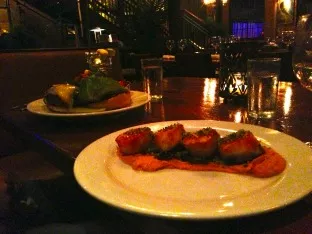 Viking Burger and Iron Cast Seared Scallops
The view from our cozy booth
Executive Chef Hugh Horner
Last Monday night, Helsinki Hudson invited my husband and me to dine at the cozy restaurant part of their Helsinki Hudson night club. The restaurant reminded me of a Tribeca restaurant without the pretentiousness—high ceilings, brick walls, inviting bar, and super comfy booths. It was Monday night so the restaurant wasn't very crowded at 6:30pm, but the bar was busy. A staff member told me that they are busier on the weekends, and this past weekend had a couple rehearsal dinners. (Club Helsinki has a busy concert schedule and the building is rented out for parties, weddings, and other special events).
The menu is divided into three categories: Swim, Smoked, and Grow. It is very farm-to-table oriented. Raised in the South, Executive Chef Hugh Horner prides himself on using locally sourced foods using whatever is in season to create delicious "Rustic New American" cuisine with a Southern flare. They serve grits, collards, mashed and gravy as sides here. Horner loves to talk about food, and interviews farmers, chefs and bands that perform at Club Helsinki on his "Eat Food or Die" podcasts on WBXC Community Radio.
I wasn't sure what to order. Our server Austin was very helpful. To start we had the appetizer special which was Cornmeal Fried Smoked Salmon Cakes over roasted jalepeno tartar sauce. It was quite spicy, but tastier than crab cakes. My husband Tom really enjoyed them. I chose the zucchini and smoked gouda croquette starter which is served with a fried egg on top. The chef uses zucchini instead of the traditional heavy potato in this dish, which made it lighter. The bites of Gouda cheese in this dish made it all that much better. The chef surprised us with one more appetizer, the South Carolina pulled pork. (Austin explained that on Monday nights Helsinki Hudson has a special "A Pint and Pulled Pork" special so he thought we should try that). It was very soft, and the kind of slow-cooked tangy meat that melts in your mouth. It was served over collard greens.
For our entrees, Tom ordered the Viking Burger which came with portobello mushrooms. The burger is hungry-man sized and delicious. I ordered the cast iron seared scallops with carrot puree and brown butter ginger. The scallops were perfectly seasoned and seared, and the carrot puree was rich and buttery. (I wish I could re-create this divine puree at home. Even my kids would these carrots!)
Believe it or not, we still had room for dessert. And, since it was my birthday, I went for it! We shared a serving of New Orleans Peanut Butter Pie. I had never tried peanut butter pie. It was more savory than sweet, but very light, and went down very well with the pot of Roobois Chai tea we shared.
After dinner, I got to meet Chef Hugh Horner and thanked him for the delicious dinner. It was certainly worth the 45 minute drive from Woodstock on a rainy night. This is a great place to get together with friends, date night, or a special get together like a rehearsal dinner. I would definitely come back next time I visit Hudson!

Vanessa Ahern writes about all the good stuff in the Hudson Valley at HVGoodStuff.com.