Kids Cheese Panini at Homespun Foods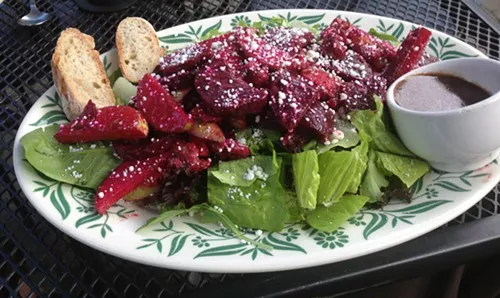 Beet Apple Curry salad at Homespun Foods
The lovely garden patio at Homespun
On a recent Saturday we took the family on a short day-trip to Beacon. It was my first time in Beacon. When I polled my Facebook readers the night before, a few people recommended Homespun Foods for brunch, and also a stop at Dora Zora Ice Cream & Palateria, popsicle boutique. We went for a long walk along Main Street, but didn't walk the entire block because we were hungry. Beacon is a very friendly town with art galleries, boutiques, antique shops, and coffee shops. We'll come back one day when we have more time, and make a late breakfast or lunch date out of it.
I got the warm and fuzzy feeling as soon as I stepped into Homespun Foods. The entrance has a kitschy 1950s kitchen decor. We sat at a table in the garden patio since the kids like to eat outdoors. The patio has a backyard Brooklyn feel to it. You order your food at the counter, and the server brings it out to you. Tom had the avocado and shrimp salad sandwich special. The kids loved the Mexican chicken soup, and the kids cheese panini. I was very happy with my curried beet, and apple walnut, goat cheese salad.
Follow Vanessa Ahern's blog Hudson Valley Good Stuff for more restaurant reviews in the Hudson Valley.