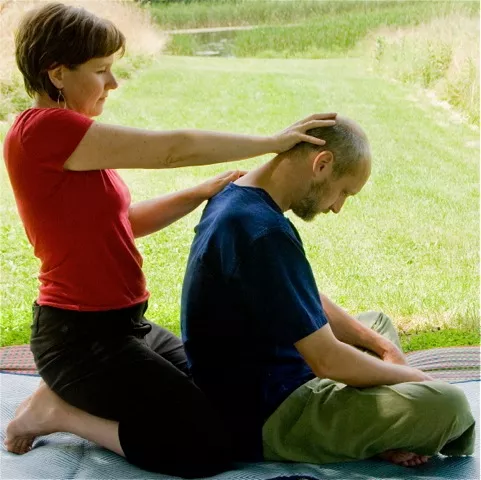 If you've ever had a pair of thumbs lodged in the deep muscles of your neck, or gently circling the skin around your temples, you know how blissful a head massage can be. The rest of your body turns to pudding as thoughts, tension, and fatigue melt away.
Now you can learn how to give this manna of the soul to yourself and others. Thai massage therapist Pamela Herrick, owner of Bamboo Thai Massage in Red Hook, is leading a "Heavenly Head Massage" workshop in Germantown on Saturday, September 28; all are welcome and no experience is necessary. During the three-hour bliss-out session, you'll learn simple techniques for how to treat both yourself (bring on the self-massage!) and others to the healing gifts of Thai touch.
According to Herrick, Thai head massage is not just pure hedonism. It's also a wonderfully effective therapy for common complaints such as neck tension, headaches, sinus pressure, eye strain, and anxiety. And with over 12 years of experience in traditional Thai massage - including a few years spent in Chiang Mai, where she cofounded a Thai Massage school - Herrick is the perfect transmitter of this ancient healing modality. Expect to come away from the workshop with new tools for self-care, as well as some amazing skills to share with your partner or to make you very popular at your next family gathering.
The Heavenly Head Massage workshop will take place on Saturday, September 28, 9 am to 12 pm, at 367 Viewmont Rd. in Germantown. Cost is $60 per person. To learn more or to register, contact Herrick at 845-392-5868 or visit her website.
Want to delve even deeper into the land of Thai healing? Sign up for Herrick's "Thai Mini Retreat Weekend," November 16 and 17, 10 am to 3 pm. The weekend includes Thai yoga as well as lots of opportunities to both give and receive Thai massage. $175/person.