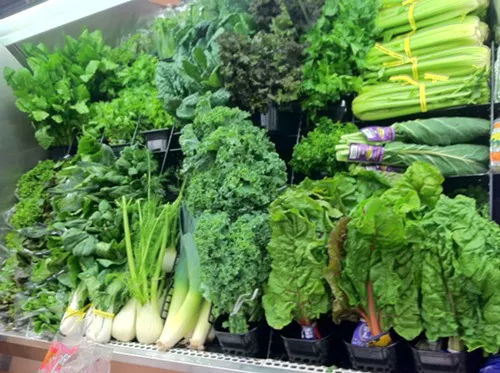 Organic Greens at Mother Earth's storehouse in Kingston
In case you haven't noticed, I really love food, and eating good food takes up a lot of my blog and my life. This year, my culinary adventures have included an invitation to be a judge at the first-annual Hudson Valley Pizza Festival, and another invitation to be a judge at the fifth-annual Cupcake Festival in Gardiner (my third time). All this gluttony comes at a price though. I have steadily gained 15 pounds since starting the blog in 2009, and my blood sugar levels teetered around a pre-Diabetes level last year. I've seen Diabetes up-close in family members, and it's no fun. I don't want to have to learn how to inject my stomach with insulin one day. I also just want to wear my old clothes again. I wanted to try a new "diet" to shake my metabolism up.
Jenna Seeley, a certified cycle trainer and marketing director at IXL Fitness has lost over 110 pounds through diet and exercise. Seeley raved about the book by Melissa and Dallas Hartwig It Starts with Food and is a recent devotee to the Whole30 program. I read the book, and circled a starting date on the calendar. In case you don't know what the Whole30 rules are, here is the lowdown: no sugar, no dairy, no grains, no gluten, no legumes, no soy, and no white potatoes for 30 days. No processed food either. If possible, you are supposed to eat only grass-fed meat, organic chicken, free-range eggs, and organic produce. Ideally you should try not to eat between meals, but if you must snack, you can nibble on fruits, veggies, or prosciutto. You can have: meats, fish, healthy fats like avocado and light olive oil, ghee—which i have yet to try—vegetables, and fruits.
Week 1: Before the Whole30, my typical breakfast: yogurt with agave or honey, wheat toast with butter, a piece of fruit, and coffee with milk. New breakfast: two hard boiled eggs, a banana, a few cashews, and black coffee. For lunch I'll have tuna with mustard, veggies, avocado, and dinner is roast chicken or fish, sweet potato, and a piece of fruit. I had ground turkey taco meat on top of salad with avocado. The first week I felt kind of down and pessimistic. I felt like something was missing from my menu and my life. I had zero energy for anything. (The book tells you not to worry about getting any exercise during the first week, but I barely exercised the entire 30 days!)
Week 2: By Day 10, I felt better. I dug out a pair of shorts that were tight before, and fit comfortably by Day 10. I started baking sweet potatoes in bulk to last me a few days since sweet potatoes and bananas were my main carbs. I discovered dates, which are allowed in limited quantity. Snacking on dates really helped me when I was craving sweets. As I was determined to make it to Day 30, I found it easy to turn down bread, cookies, and cheese. I didn't eat any of my daughter's leftover sandwiches, mac and cheese, or yogurt. (This alone must have saved me at least 500 calories a day.)
Week 3: Staying on the Paleo-like Whole30 is becoming second nature, and I enjoy the challenge of looking at a menu and trying to create a Whole30 compliant meal for myself. I scheduled the Whole30 challenge in July, a month with no major social engagements that involved food. For the 4th of July, I enjoyed burgers, salad, and watermelon.
Week 4: The end is in sight, and part of me really misses brown rice, agave syrup, coffee with milk, and yogurt. When you finish the Whole30, you are supposed to re-introduce one "forbidden" food every few days to see what agrees with you and what is your food enemy. I found this part of the challenge very tricky, and if and when I try this again, I'll take my time with the re-introduction.
Another rule is that you are not allowed to go on the scale for the entire 30 days. I ended up losing six pounds, and I lost another pound the week after I finished. After the Whole30, my face feels and looks less puffy, and I have more energy now than I did prior to starting. The main benefit to this challenge is that I have curbed my dairy intake and mindless snacking on bread, butter, cheese, and cookies. (Update: I have had two desserts since the end of my Whole30. One dessert at Duo Bistro, and I also savored the cookies from Banana Moon Baking Company which were sent to me in the mail to review after the challenge. Hey, I'm just doing my job here!)
More pros: Most of the time I wasn't that hungry. I didn't have to keep a food diary or count calories which is boring and tedious to me. Cons? The first week was awful, and eating out is not as much fun when you are limited to just eating Whole30-safe foods. I also found that I ate more red meat than I usually do. If I try another Whole30, I will try and stick to just eating fish as my protein or look into the vegetarian Whole30. I did find good Paleo-friendly options at Duo Bistro, Outdated Cafe, and Hudson Coffee Traders. Readers also suggested New World Home Cooking as a Paleo-friendly restaurant. Have you tried the Whole30 challenge or eating Paleo?
Follow Hudson Valley Good Stuff for where to eat, play, and recharge your spirit in the Hudson Valley.