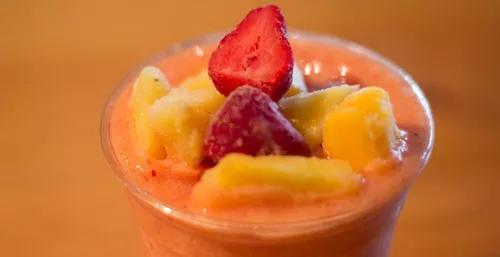 Sissyscafekingston.com
A smoothie from Sissy's Cafe on Wall Street
Okay—maybe you're sick of hearing about all of the great things that we're going to have at tomorrow's block party. We've been tempting you for weeks with announcements about bands (Crystal Stilts! Superhuman Happiness! The Big Takeover!), special activities (swing dancing! DIY art tent!), and Hudson Valley cuisine (Keegan Ales! Yum Yum Noodle food truck!). By now, you're probably just ready for the 17th to come so you can actually experience it all. But before the big day tomorrow (on Wall Street in Uptown Kingston from 4-11pm, in case you're just catching up), we have one more big announcement. We're going to have a ton of great stuff going on in the street itself, but our neighbors will have great offerings throughout the party, too—from 24-hour brewed ice coffee at Outdated Café (right downstairs from our office!) to $1 oysters and $3 draft beer from Boitson's. Here are our top five picks for Chronogram-inspired food and drink specials that will be available Uptown during the block party. (The list is in no particular order; we love you all equally.)
1. Mahoney Baloney
Elephant, a wine bar that serves modern European tapas right next door to Chronogram's office, will serve a sandwich in honor of our fearless leader, Brian K. Mahoney. The sandwich encompasses Elephant's signature style: food as delicious as it is edgy. The Mahoney Baloney is a sandwich with braised raddiccho and Mortadella, a large Italian sausage made of heat-cured pork—a staple of Bologna, Italy.
2. Chronogram Burger
A burger from Duo Bistro never disappoints—grass-fed local beef, toasted homemade rolls, and creative topping combinations make for an ideal iteration of the iconic meal. Kingston's modern uptown bistro will have a special Chronogram burger for our big day, topped with smokey brisket, horseradish sauce, and pickled vegetables, and served with a pile of hot crispy fries.
3. Chronogram Smoothie
Sissy's Cafe, just a hop, skip, and jump away from our office on Wall Street, opened last spring to the delight of Kingston's hungry lunch-goers. They have an organic juice bar, hearty sandwiches and salads, and kombucha on tap. For the block party, the gals from Sissy's asked Chronogram staff about their favorite fruit, and then made a smoothie based on the answers. Stop in for their special smoothie on Saturday, made with papaya, mango, strawberry, banana, and coconut water.
4. Chronogram Anniversary Punch
Kingston's favorite pre-prohibition-style bar will serve up a special anniversary punch in honor of Chronogram's big 2-0. Stockade Tavern will be offering a variation of a Boston rum punch, made with lemon peel that will sit in sugar overnight to bring out its natural oils; a raspberry shrub made out of vinegar, sugar, and raspberries; and a whole lot of rum. All we have to say is: Cheers!
5. White Sangria and Moonshine Anniversary Tasting
From 5-8pm on Saturday, Blue 57 will host a tasting of a couple of their exciting summer products. At 60.9 proof, Firefly Moonshine from South Carolina packs a punch, but the peach flavor gives it a smooth, fruity finish. Another refreshing option is the white sangria from Slices—white whine infused with lemon, lime, and pineapple.