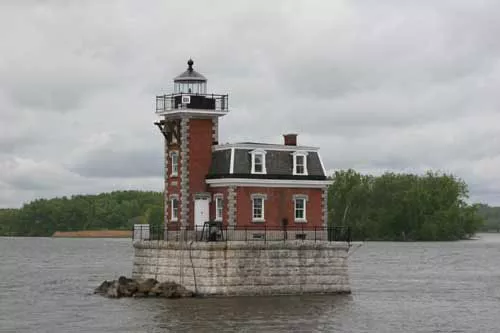 Today, July 13, visitors can take a tour of the 139-year-old Hudson-Athens Lighthouse 14-feet off the coast of Athens, where Emily Brunner and her family of five made their home from 1942 to 1949. Emily Brunner leads a tour of her childhood home, a two-story, eight-room brick structure that her father, Emil Brunner, maintained for seven years. The low-tide mud island in between Athens and Hudson, called the Middle Ground Flats, made navigation of the Hudson River extremely risky due to ships getting stuck on route. The lighthouse was built in 1874 on the "middle flat" to provide safe passage for larger shipping boats. With there being no electricity or running water at the time of occupancy, Emil Brunner had to hand light the kerosene lantern several times a night.
On the tour, guests can see the bunks where the Brunner's once slept and family photos in each of the four bedrooms. Emily Brunner will tell stories about growing up in a lighthouse, such as rowing her siblings to school each day and traversing a frozen river in the winter. Many authentic pieces donated by the Brunner family are on display, such as the original fog bell which is now mounted outside on the tower. Visitors can also see modern navigational techniques currently used to guide ships around the shoal. The tour is an opportunity to learn about the important role that the lighthouse played in the development of the upper Hudson River towns. Today, all four working lighthouses along the Hudson Valley are green-light maintained by the US Coast Guard. Tours continue on the second Saturday of every month from August to October.
On September 7, Hudson Cruises hosts the Tour d'Four, a day trip on the paddle boat Spirit of Hudson, to Hudson-Athens Lighthouse, Saugerties Light, Rondout Light, and Esopus Meadows Lighthouse. For more information visit Hudson-Athens Lighthouse or Hudson Cruises.