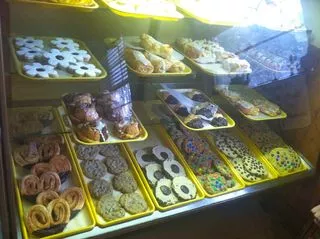 Just say yes to these decadent danishes at Pine View Bakery
Every time we pass by the Pine View Bakery on Route 28, I think about all the decadent danishes for sale. Last time I had breakfast here i had the strawberry banana waffles. Tom had the Greek omelet. It was delicious, of course. I love the extra butter on the fresh baked muffin. Our server was awesome and must have refilled our big coffee cups four times. We were both wired!
The owner was very sweet and gave us a bunch of pastries to take home as a thank you for blogging about the bakery in the past. They also make wedding cakes.
For more insider tips on where to eat, play, and recharge your spirit in the Hudson Valley, visit Hudson Valley Good Stuff, a blog Vanessa Ahern created 4 years ago.