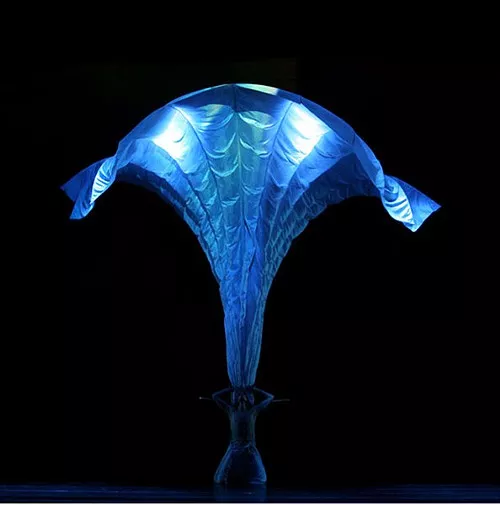 The Saratoga Performing Arts Center, SPAC, located in Saratoga Springs will house some of the biggest names in music this summer. Dave Mathews Band, Phish, Tom Petty and the Heartbreakers, and Lil Wayne will all be some the mega-acts featured on SPAC's large amphitheater stage. In addition to SPAC's rock-star lineup, its summer season will also feature some more classical and composed acts, such as performances by four contemporary dance and ballet companies.
The New York City Ballet, at SPAC on July 9 through the 13, stages five individual performances, each between 15 and 30-minutes long. Director Justin Peck's second work for the New York City Ballet, "Year of the Rabbit," is a collaboration with American singer-songwriter Sufjan Stevens and is set to Stevens's Enjoy Your Rabbit, an electronica album based on the Chinese zodiac. Stevens's music is reworked by string orchestra composer Michael Atkinson. Other opening night performances include "Garland Dance," from Sleeping Beauty and "Tchaikovsky Pas de Deux," which includes remakes of original works by composer Pyotr Tchaikovsky and choreographer George Balanchine. A conversation with Ballet Master in Chief, Peter Martins, follows the opening night performances.
On July 16 to 18, the National Ballet of Canada makes its first tour to SPAC with three full-length compositions, "Giselle," "The Four Seasons," and "Emergence." From its first performance in 1997, James Kudelka's ballet, "The Four Seasons" explores the youthful brio of spring and summer to the melancholy acceptance of autumn and winter. Crystal Pite's performance, "Emergence," explores the notion of dance as an evocation of the broader, inherent human tendency to socialize. The romantic ballet, "Giselle," will be staged on July 17 and 18.
Another company to dance their way to the Hudson Valley is Aspen Santa Fe Ballet. On July 24 and 25, Aspen Santa Fe Ballet brings classical technique and training to modern ballets by choreographers Trey McIntyre, Norbert de la Cruz III, Jiři Kylián, and Jorma Elo. The performance "Overglow," by Boston Ballet resident choreographer Jorma Elo, works with six dancers to fuse modern movements with classical music by Mendelssohn and Beethoven. "Square None" by Norbert De La Cruz III features baroque-inspired costumes by Austin Scarlett of Project Runway.
On August 1, SPAC hosts Momix, a contemporary ballet company with dance illusionist Moses Pendleton. Their performance, "Botanica," is a multimedia production that illustrates nature's organic movements through performance art with nontraditional ballet movements. Compositions will feature illuminated balloons, whimsical glow-in-the-dark face painting, and costumes imitating natural elements on Earth. Music includes eclectic scores ranging from birdsongs to work by Antonio Vivaldi, the 18th-century Italian composer.
For more information about this summer's performances, visit SPAC's website.