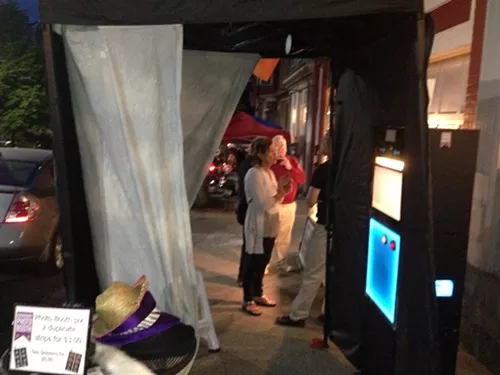 Hudson Valley Good Stuff/Vanessa Ahern
Night market in Kingston brings diners and shoppers to the end of Broadway & the Rondout area
Night Market on the Kingston Rondout is a new event with a Parisian-style antique market, free food and wine tastings, live music, crafts, and a photo booth, among other quirky things. There was even a tarot reading taking place right outside Karmabee. Night Market takes place on 3rd Fridays of the month. I went for a leisurely stroll towards the end of Broadway on May 17. (The festivities are between McEntee and the Waterfront.) It was fun meeting Nancy of Kingston Happenings, the folks at Milne At Home Antiques, Karmabee, The Green Space, and seeing Savonas and Mole Mole packed with people. I didn't dine out that night though. I just wanted to check out the scene for Hudson Valley Good Stuff. I hope to make a date night out of one of the Night Market nights of 2013 though. Mark your calendars: June 21 (tonight), July 19, August 16, September 20, and October 18!
Follow Vanessa Ahern's Hudson Valley Good Stuff for where to eat, play, and recharge your spirit in the Hudson Valley, and much more! Also be sure to Like the HVGS Facebook Page.