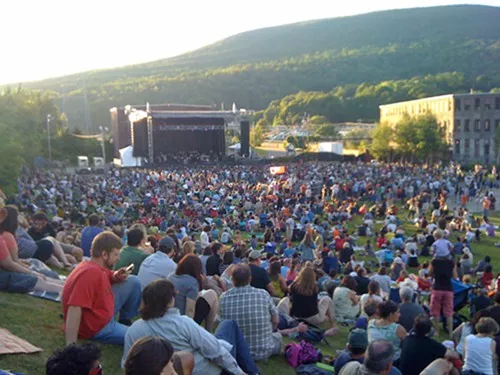 Indie rock band Wilco hosts their third annual Solid Sound arts and music festival—a three-day event from June 21 to 23 at MASS MoCA that engages all five senses. The North Adams, MA, festival allows concert-goers a unique sample of Wilco's own taste in music, as they handpick every band featured over the weekend. Of these is White Denim, a band whose repertoire spans from piano ballads to acid rock. Other bands include Dream Syndicate, "Border Music" featuring Marc Ribot and David Hidalgo (Los Lobos), Yo La Tengo, Medeski, Martin and Wood, Low, Neko Case, Foxygen, Os Mutantes, the Autumn Defense, the Relatives, Sean Rowe, and more.
The Story Pirates, a creative writing organization known for their combination of music and sketch comedy featuring stories written by children, will be the first of these exciting acts. Later on, John Hodgman will keep the laughs coming with comedy acts that have found their way to "The Daily Show," the Emmy's, and innumerable clubs and theaters across the country.
In between performances, non-musical events such as bird walks, hikes, and star gazing will be offered in addition to children's crafts and a series of panels and demonstrations on home brewing and making hot sauce, to name a few.
As always, Solid Sound will be the site of art as well as music, with members of Wilco premiering their own works. Jeff Tweedy will showcase a sonic and visual presentation of the band's Chicago studio, The Loft. Later his bandmates will give guests a hands-on experience of Wilco's music with collaborative synthesizer performances and an exhibit called Earth Drums, which allows participants to communicate with each other via drums scattered throughout Mass MoCA's campus.

This year, the festival boasts vendors and on-site dining provided by local farms such as Equinox Farms and the Berkshire Mountain Bakery, providing freshly-grown cuisine to keep you rocking on for the entire weekend.
For more information about music festivals this summer, click here.