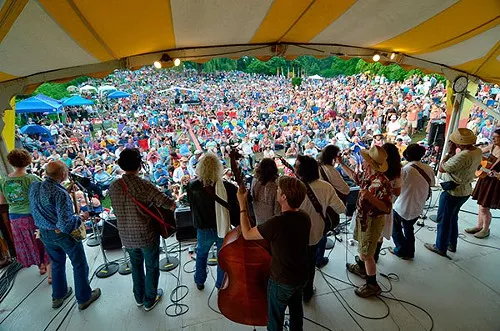 Clearwater (also known as the Great Hudson River Revival), one of the most beloved music festivals on the East Coast, kicks off this weekend at Croton Point Park in Croton-on-Hudson. Co-established by local treasure Pete Seeger, it started as a fundraiser for the construction of the sloop Clearwater. Along with an appearance by Pete himself, this year's performers include Mavis Staples, Son Volt, Acoustic Hot Tuna, Judy Collins, Kris Kristofferson, Ivan Neville's Dumpstaphunk, the Dirt Farmer Band (Levon Helm Band members), David Amram, and many others.
The Clearwater Festival, running this year from June 15 to 16, features seven sustainably powered stages with diverse music, dance, storytelling and family-oriented programming. The weekend also features homemade crafts, a green living expo, and the Working Waterfront, offering small boat showcases and rides. The festival is wheelchair accessible, with wheelchairs available free of charge on site. Most of the stages are staffed with American Sign Language interpreters, and signers are available upon request.
Clearwater has grown into one of the country's largest annual environmental celebrations. There are zero waste stations throughout the park, where recyclables and compostables are collected separately from trash. In 2012, Clearwater expanded the number of collection stations throughout the site and recycled 10,140 pounds of organic material.
For more information about Clearwater's Great Hudson River Revival and other summer music festivals, click here.