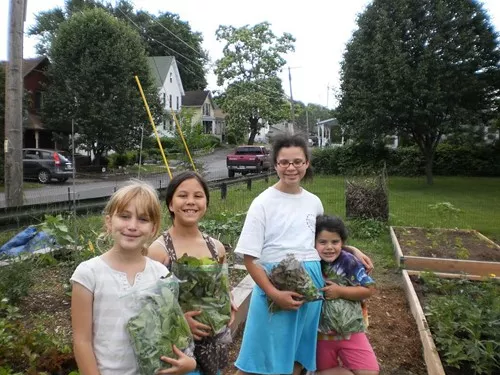 The ease of shopping and eating locally is just one of the many pleasures of living in the Hudson Valley. Regional markets, farms, specialty food shops, and craft wineries, breweries, and distilleries offer a sustainable circuit so that you need not ever travel too far for good, wholesome food products. Participating in the Hudson Valley's whole foods culture, though, goes beyond just shopping for local products; there are also opportunities to learn about the process of food production in the Hudson Valley, such as the YMCA of Kingston's new educational food initiative.
The Kingston YMCA Farm Project has set in motion work to open a new farm in Midtown Kingston that will be used as a learning tool for young people involved in the YMCA's on-site after-school and summer camp programs. In September 2013, ground will be broken on a quarter-acre farm at the YMCA, and by 2014, the farm will launch its educational initiatives, which will immerse children in all aspects of food production and farm care, including seeding, transplanting, watering, weeding, harvesting, and, in partnership with the Queens Galley, preparing vegetables and healthy meals.
In May, the Farm Project raised $1,200 during its kick-off fundraiser party at the Shirt Factory in Kingston. The next fundraising event will take place on Tuesday, June 11, on the patio at Boitson's Restaurant in Kingston from 7-10pm. The deck party includes appetizers featuring ingredients from Kingston's South Pine Street City Farm and a cash bar with farm-inspired cocktails. Tickets are $20. Click here for more info about the Kingston YMCA Farm Project.