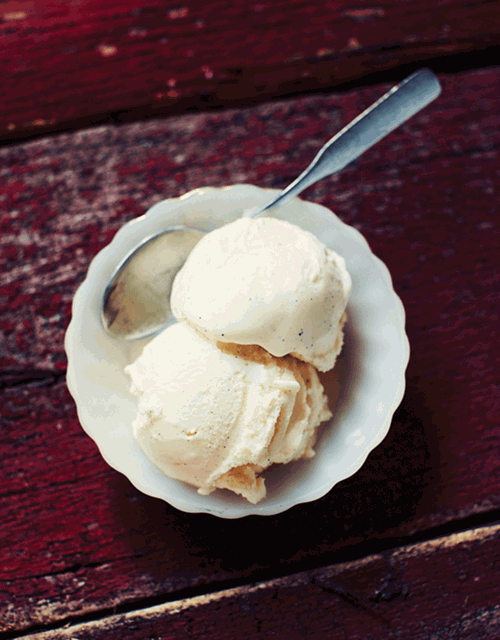 Andy Ryan
Gelato from Lazy Crazy Acres.
This weekend, the Hudson Valley will have its first summery heat wave, with temps reaching the high 80s. We feel it's an appropriate time, then, to report on our favorite ice cream joints in the region—from farm-to-stand creameries to artisanal, microbatch popsicle shops. Here are our top five picks for refreshing sweets to complement the heat:
1. Zora Dora
Zora Dora's microbatch ice cream is the brainchild of Steven Astorino, a culinary school grad looking to create a distinctive quality product for other chefs to serve in their restaurants. It didn't take long for Zora Dora's to become a community favorite in Beacon, though. Specializing in small-batch, artisanal products, Zora Dora produces a wide-range of frozen desserts made with organic, local dairy and farm-fresh produce, including dairy-based gourmet popsicles and traditional Mexican paletas, or fruit-filled ice pops.
2. Artigiani del Gelato
In addition to their homemade, fine Italian gelato, this Rhinebeck shop also offers specialty products, like gelato shakes, macaroons, and "gelato burgers," which is exactly what it sounds like—scoops of gelato served on a roll. Gourmet flavors include amarena cherry, salted caramel, wasabi, and goat cheese and honey. Enjoy an espresso with your gelato sandwich, and call it a day well spent.
3. Go-Go Pops
Cold Spring's gourmet popsicle shop got its start when Lynn Miller, co-owner of the husband-and-wife-run-establishment, froze fresh grapes as a kid and ate them as mini-ice pops. Hence Go-Go's first flavor, Grapey-Grape—a pop with fresh green grapes suspended inside concord grape juice. Now, Go-Go features over 70 different recipes, with 20 or so available at their store (or local farmers' market) on a given day. Popular flavors include Green Faerie, a combination of avocado, kiwi, coconut water, and agave nectar; pumpkin pie; and a series called bubble tea, made with organic, fair-trade tea and fruit. All of Go-Go's products come in compostable packaging, and all of their fruit waste goes to local farmers.
4. Boice Brothers Dairy
The Boice family has been in the dairy business since 1914, and they make all of their dairy products on premise at their establishment in Kingston. Their hard- and soft-serve flavors rotate weekly, and they also offer fat- and lactose-free options, like Dole Whip. In addition to their ice cream stand—open year-round—they also supply fresh dairy products to local grocers. Stop in for a cone, sundae, or milkshake, or try one of their other dairy products, like homemade ice cream cakes, chocolate milk, or egg nog. You can't miss their spot on O'Neil street—just look for the big cow statue.
5. Holy Cow Ice Cream
The popular ice cream stand in Red Hook doesn't offer homemade products like the others that made this list, but its quality, affordability, and simplicity have made Holy Cow a local treasure. Offerings include hard and soft-serve ice cream, Razzles (Holy Cow's version of a McFlurry), egg creams, floats, malts, and milkshakes. Popular choices include their blueberry pie ice cream (vanilla with blueberries and bits of pie crust) and banana milkshakes. The cherry on top? They're open year-round.
Notable ice cream and gelato makers of the Hudson Valley
These places don't sell their products on premise, but it's well worth tracking them down at a local store or farmers' market:
Lazy Crazy Acres
A pint of Lazy Crazy Acres gelato begins with the milk—fresh daily from cows grazing on Catskill forage. The base mix combines milk with fresh egg yolks, sugar, and vanilla; never any corn syrup or artificial colors or flavors. The additional ingredients—honey cake, apple cobbler (from Karen's grandma's recipe), buttered rum sauce, sea-salted pecan brittle, and crushed oat praline, are made by hand (usually Karen's) in the small commercial kitchen that shares space with the microcreamery in the Fairbairns' 120-year-old heritage barn.
Jane's Ice Cream (available at Chronogam Kids & Family Fun Day this Sunday!)
The Rolls-Royce of Hudson Valley creameries, Jane's Homemade Ice Cream was inspired by a century of history, including a family chocolate syrup business at the turn of the century that sold to the soda fountains of Manhattan for egg creams. Check out their over 60 flavors of ice cream, including specialty flavors like Date Rosewater, Beet Dill, and Pomegranate Molasses, as well as their sorbets and frozen yogurts—all homemade.