Grass-fed burger at Matchbox Cafe in Rhinebec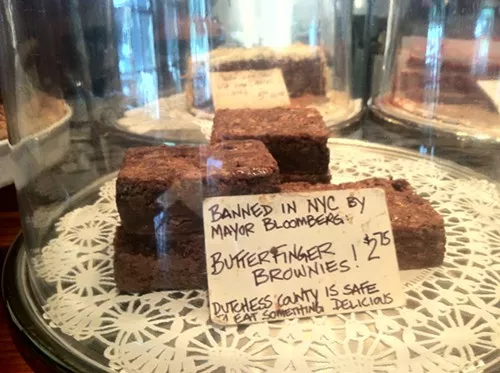 Banned Brownies at Matchbox Cafe
The Matchbox Cafe is a small cafe on Route 9 in Rhinebeck. There is a big flag in the front, but slow down or you may miss it. A finicky chef friend of ours recommended their grass-fed burger. Tom had the burger with swiss cheese. I had the "Yummy Veggie Sandwich" special—a vegetable pancake of zucchini, potato, onion, and garlic with avocado on a bun. I was tempted to get their corn on the cob special, but since Tom just had a meeting with his nutritionist, I didn't want to make him feel guilty.
The organic, grass-fed burger was delicious. The veggie sandwich was a decent size and really good. It tasted better than a veggie burger. The fries were the hand-cut kind and very tasty—not oily at all. I only eat fries if they are really good, and these were really good fries! I was tempted to get a dessert, but I decided to be good. Taking photos of amazing desserts is almost as good as eating them, right? Well, not really.
They have an active take-out business. You can call ahead and place your order, or have it delivered to your location within Rhinebeck with a $10 minimum order.
Find more Hudson Valley Good Stuff at Vanessa Ahern's blog, HVGoodStuff.com. Find out where to eat, play & recharge your spirit in the Hudson Valley.