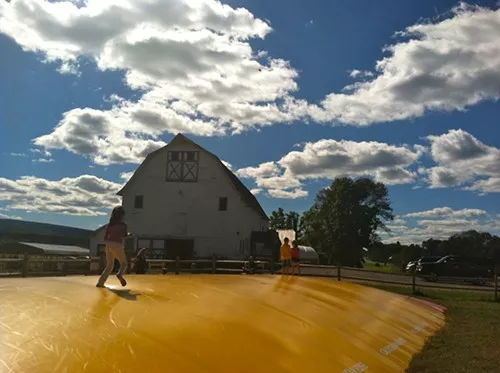 The Jumping Pillow at Kelder's Farm opens in late April weather permitting
We always have family fun at Kelder's Farm on Route 209 in Kerhonkson. There are great U-pick farm stands along Route 209, but Kelder's Farm first appealed to me because it has a petting zoo and a bouncing area for kids. This "Jumping Pillow" is a big hit for my kids. They also have hayrides and you can milk a cow for $2. We bounce for at least an hour! There is no time limit. You pay $5 per person for a wristband, but you can bounce all day if you like.
It is a really beautiful place, so if you go, don't forget your camera! You can also pick your own fruits and vegetables in season at Kelder's Farm. I would definitely recommend Kelder's Farm for any child who loves to jump and bounce. There is also a small edible mini-golf course. The hardest part will be getting them off the jumping pillow! Also, just FYI, the restrooms are porto-potties so if you have a porto potty phobia, best to go somewhere else before you start the jump-a-thon.
I love pizza so I was very excited to find Pizza Barn, a laid-back, beautiful, rustic pizza place in Accord that makes gluten-free and organic pizza on Route 209, not far from Kelder's. All the pizzas here are made of organic ingredients and grass-fed, hormone-, antibiotic-, and nitrate-free meats. The kids loved the pepperoni pizza. We loved our square slices made with organic whole grain flour. We didn't get to try the gluten-free pizza, so we'll have to try it next time. It is really hard to find gluten free pizza in the Hudson Valley, so I was happy to find this one for all you gluten-sensitive folks.
Find more ways to eat, play, and recharge your spirit in the Hudson Valley at Vanessa Ahern's blog, HudsonValleyGoodStuff.com