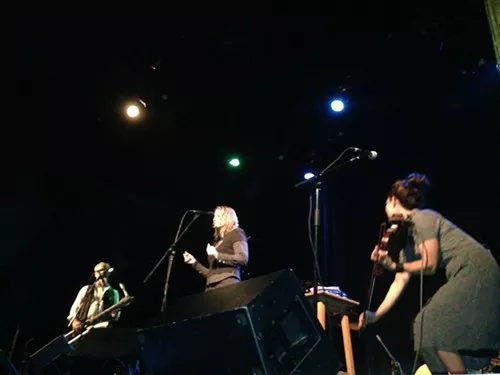 Erik Lawrence, Joan Osborne, and Tracy Bonham
I know I say this about every Bearsville Theater concert I go to, but the Joan Osborne concert was really one of the best shows I've seen here to date. First of all, Jill Andrews, the opening act, was so good that I'd return and see her perform solo. Andrews finished singing around 9:45pm, and when Osborne still hadn't appeared by 10:15pm, the crowd got restless, and a few people started chanting "Joan"—but then she appeared, and welcomed the crowd with her soul-wrenching "St. Teresa". She was joined by local musician luminaries violinist Tracy Bonham, Erik Lawrence, and Jerry Moratta.
She sang a mixed bag of soul (Tina Turner), country (Emily Lou Harris), pop (Christopher Cross), and blues (Bob Dylan), and finally her biggest hit "What if God Were One of Us" and a few newer songs from her album Pretty Stranger. Osborne also threw in a bit of Van Morrison and Otis Redding. "Work on Me" is a new song of hers that was my favorite from the batch of new ones she sang. I wish I had recorded that one. Oh well.
My favorite moment of the show was when Osborne prefaced the song she was about to sing by saying it was the song that turned her into the singer she is today. She sang "God bless the Child" by Billie Holiday at a blues club in Manhattan on a dare from a friend in the 1980s. The young woman sitting on the floor next to me shouted, "I know! I was there!"
"Oh, you were not!" Joan Osborne shouted back, looking in our direction.
The young woman said, "Yes, I was! That's why I'm here!"
"Well, we'll talk after the show then," Osborne said.
Towards the end of the show, Osborne told the audience that she would be signing CD's for fans in the lobby of the Bearsville after the show. That was very cool of her. (Wish Aimee Mann had done this last year!) I lost track of her biggest fan, but I'm sure she got to meet her. One audience member captured it perfectly in a scream from the back row, "You guys are unreal!" The show really was unreal.
Find more Hudson Valley Good Stuff at Vanessa Ahern's blog, HudsonValleyGoodStuff.com: Where to eat, play & Recharge Your Spirit in the Hudson Valley