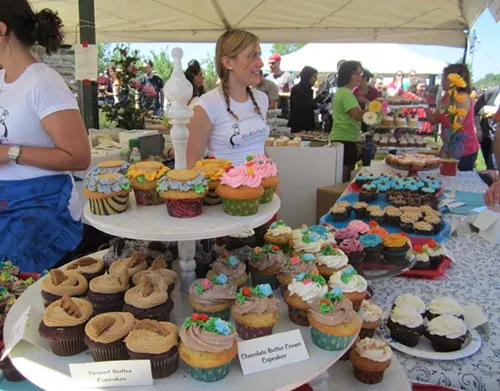 Kokopelli Booth at Gardiner Cupcake Festival May 2012
Thousands of cupcake lovers will be reuniting on May 18 at Wright's Farm on Route 208 in Gardiner to celebrate the 5th Annual Gardiner Cupcake Festival from 12 to 6pm. Prices of cupcakes vary, but I have noticed that it starts at $3 a cupcake. Vendors put a lot of money and effort into this festival so I think whatever the price, it is well worth it and justified. You will find a cupcake to suit just about any cupcake lover you know.
Do you want to know how much I love cupcakes? Last year, I was invited to be a media judge for the Amateur Cupcake Contest held at the festival. I think I tasted 27 different cupcakes. I will be a judge again this year. The festival's organizers recently announced on their Facebook page that there will be a 5K run held before the festival opens on May 18. More details on the run should be coming shortly.
To read about Vanessa Ahern's tasting adventures at the last Gardner Cupcake Festival and more, visit HudsonValleyGoodStuff.com.