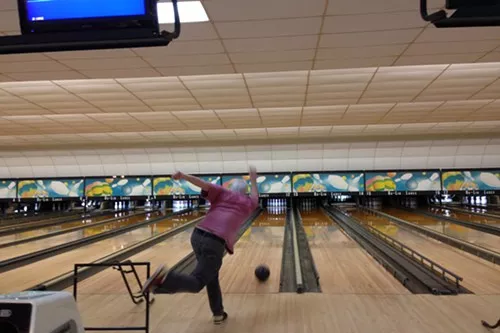 Warming up at Ro-Lin Bowling Alley
Ro-Lin Lanes in Red Hook is a great place to go on a blah weather day when you have no plans, and need something to do with the kids. It was crowded there on Sunday afternoon with families, groups of friends, and random single men. There was also a very low-key kid's birthday party taking place. They have bowling ramps to help kids who are learning how to bowl. There is a snack bar, game room, redemption arcade, and vending machines full of junk food kids love. I'm a terrible bowler, and only bowl once or twice a year, but Ro-Lin Lanes has a nice family atmosphere, and I didn't feel too embarrassed about my lack of bowling skills. The bowling shoes for rent were also relatively new, which I appreciate. In better weather, you can also use their 18-hole miniature golf course.
Find more fun activities to do in the Hudson Valley, visit Vanessa Ahern's blog Hudson Valley Good Stuff: Where to eat, play & recharge your spirit in the Hudson Valley.