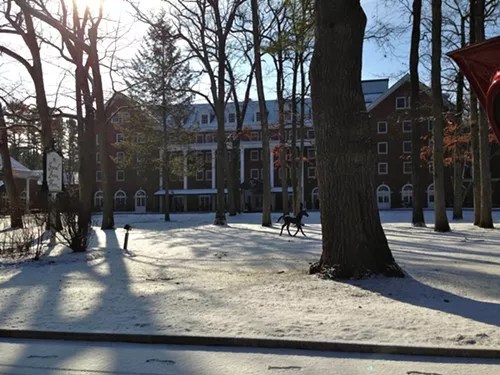 Gideon Putnam Hotel in Saratoga Springs
As much as I love living in the Hudson Valley, sometimes I need to break away for the weekend. My husband and I love taking the kids up to Saratoga Springs during a quiet winter weekend. Saratoga Springs is an easy 1 hour and 35 minute drive from Kingston. We get on the NY Thruway I-87 to Exit 24 towards Albany/Montreal, and then right to 13N for Saratoga Springs.
At the top of our weekend agenda: mineral baths at Roosevelt Baths and Spa in Spa State Park. For $25, you can soak in a mineral spring bath for up to 40 minutes. The water is body temperature so it feels hot, but not scalding. The first time I saw the bath, I thought, "Whoa, this looks like chicken soup." But once you go in, you can feel something happening. It is very relaxing, and I always leave feeling invigorated. Roosevelt Baths and Spa recently went through a renovation, and now has a beautiful spacious relaxation room as well. If you have extra time and money, there is a bevy of different services you can try. Before your spa treatment, you can join the active Saratogans in Spa State Park for a run or power walk. No matter how cold it is, I always see people running up there.
There are many fine dining options in Saratoga Springs. The closest we have come to this is delicious take-out from Ravenous, a cozy crepe cafe on Philla Street. Ravenous has an eclectic menu of savory and sweet crepes. For kid-friendly dining, check out El Mexicano Restaurant for yummy authentic Mexican food, the Circus Cafe, and coffee shops in town. The Hampton Inn, Hilton Garden Inn, and the Gideon Putnam are all great lodging options. (The more expensive Gideon Putnam is joined to the Roosevelt Baths and Spa. You don't have to be a guest of the hotel to use the spa, but it is a stone's throw away!) Where do you escape to when you need a change of scenery?
Read more of Vanessa Ahern's adventures at HudsonValleyGoodStuff.com, a blog she started in 2009 that covers where to eat, play and recharge your spirit in the Hudson Valley.