Spices and Herbs for Sale at Mother Earth's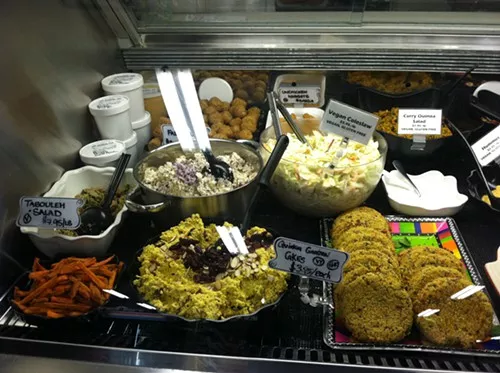 Delicious vegetarian deli offerings at Mother Earth's Storehouse
Mother Earth's Storehouse is launching a Healthy Eating Education campaign and Wellness Wednesdays Kickoff on Wednesday, January 23rd from 5 to 8pm in its Kingston store. Mother Earth's will have live cooking demos, free samples, tastings of delicious healthy food, and local wellness businesses (massage, acupuncture, yoga, fitness, nutrition, and more) on hand to help educate you on services that will keep you healthy and happy in 2013.
Certified Nutrition Counselor Holly Shelowitz came up with the idea for two reasons: community and education. "Mother Earth's is a center for healthy organic food and friends seeing each other. I'm creating a healthy eating education program in the stores with cooking classes, store tours, recipes, and nutrition information, and this is our kickoff event. I enjoy promoting the many wonderful health related businesses in the area and wanted to make it into a monthly wellness party!" says Shelowitz.
As much as I try to eat healthy and eat less fake food, I really need to push myself to try new things at home, such as quinoa, nori, or chia seeds. I know there is a world of delicious nutritious food out there that is better for my body than, say, 100-calorie English Muffins. I am curious about these novelties, but I don't know where to start.
"We have many wonderful long time customers that shop regularly in our stores, and there are also many many folks that have not stepped foot into a natural food store. They are curious and possibly intimidated. I want to make it easier for new people to navigate and explore the store, and create more healthy education for our existing customers," says Shelowitz, who has been a nutrition counselor and culinary educator in the Hudson Valley for 14 years, teaching cooking classes and offering nutrition counseling. She was hired by Whole Foods Market three years ago to help launch a healthy eating education program for them. The programs were successful, but she missed living in the Hudson Valley. "I wanted to bring my experiences back home and take my business to the next level, which is focused on creating community and healthy eating education in my own backyard," says Shelowitz. Wellness Wednesdays will be a monthly event on the 4th Wednesday of the month.
HudsonValleyGoodStuff.com: Where to eat, play & recharge your spirit in the Hudson Valley.