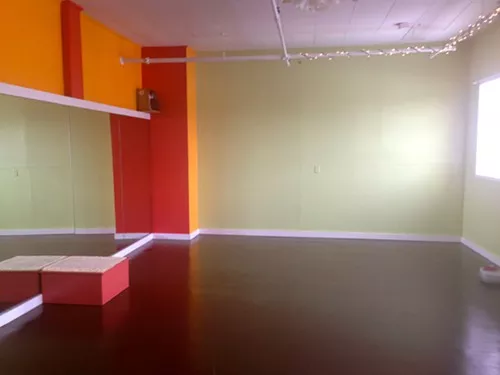 Steamy studio at Hot Spot Yoga in Kingston
I was happy to find out there is a place in Kingston that has hot yoga called The Hot Spot. Twelve years ago I tried a Bikram Yoga class in New York City, and enjoyed it even though the sadistic instructor didn't let us drink water until the very end of class. Shortly after trying the class, I found out I was pregnant, and I didn't have the energy to try it again. (Stephanie Nystrom, the owner and instructor, practiced hot yoga classes through two pregnancies by the way!)
This past weekend, I was eager to give hot yoga another try. Saturday morning I woke up early and had a piece of fruit, coffee, and water about two hours before my 9am Saturday class. The Hot Spot studio is tucked away on the downstairs floor of Signature Fitness on North Front Street in uptown Kingston. The studio is small, and can fit about a dozen yogis.
The first 10 minutes were tough for me. The poses weren't that strenuous, but the 105 F heat was hard to adjust to at first. I was jealous of the woman in front of me sweating gracefully in her bikini top after 10 minutes. It took me longer to break into a good sweat, but once I did, I started to feel better. Stephanie gave us a water break after 20 minutes. She was very patient with the four newbies in the class, making it clear that we could take a break whenever we needed it. (Stephanie suggests you do stay in the studio for the duration of the class even if you need to lie down or sit out a few poses, unless you really feel sick.)
Vanessa Ahern is the founding editor of HudsonValleyGoodStuff.com, a blog about where to eat, play & recharge your spirit in the Hudson Valley.