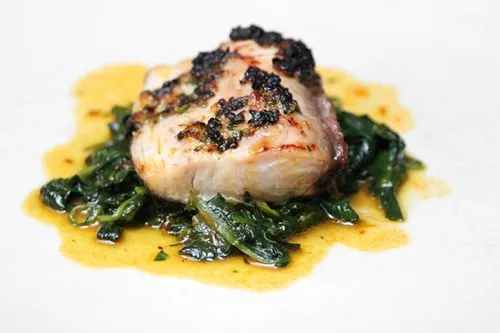 Upon returning home from the store with a nice mahi-mahi fillet, I was greeted by a big box on the front porch. The last in the four-part deliveries of free food for the Lambs and Clams contest, which I am quite decisively not winning, this particular box contained two pounds of ground lamb and 25 clams. I'm going to use the lamb for the contest post, so I just incorporated the clams into the evening's fish dinner, transforming it into a two-course delight.
It's hard to go wrong with a big messy pot of shellfish tossed in fragrant aromatics and wine, so that's what I made. The flavors can of course be tweaked every which way, from Thai to Mexican to Middle Eastern to Spanish, but the presence of some chorizo made the choice an easy one. A little bit of cured pork does wonders for clams, and with some saffron, pepper, and sherry vinegar, you've got yourself some instant paella essence in a bowl. I sautéed a mirepoix of onion, carrot, celery, chorizo, seeded jalapeño, and parsley stems until they softened, then added garlic for a bit longer, deglazing with sherry vinegar and a splash of red wine. Next I poured in a bit of the homemade smoked salsa, some herbes de Provence, saffron, and the scrubbed clams, then covered the pot.
After a few minutes of fragrant commotion under the lid, this wondrous heap poured forth:
Thick slices of freshly-baked sourdough boule sopped up every drop of the magnificent liquid. It's hard to imagine a better beginning to a dinner.
Next up, the mahi-mahi. As I mentioned in this post, it's hard to go wrong with slathering a fillet with miso butter and then baking/broiling it. It's helpful to cut the fish into portions before cooking; it cooks faster and makes for easier and more elegant serving. Roughly equal parts unsalted butter and the locally produced chick pea miso plus a fat handful of minced parsley comprised this iteration, and after about ten minutes in the oven I turned on the broiler to give the tops some color. I wilted spinach with a smashed garlic clove in some olive oil, finishing it with a dribble of raspberry vinegar, and put a little pile on each plate, topping it with a piece of fish and then spooning some of the clam liquor around for a nice saffrony halo that really made the greens pop.
It's been pretty mild lately, and this is precisely the sort of meal that begins to cant in anticipation towards the lighter fare of the warmer months to come without sacrificing any of the soul and body-warming qualities that winter requires. Unlike fin fish, farmed shellfish are preferable to their wild-caught versions; their cultivation and harvest benefits the waters in which they grow as well as the coastal communities in which the farms are located. Regionally farmed clams, mussels, and oysters are as guilt-free as seafood gets, and they satisfy so handsomely in the cold months, whether slurped down raw or piled in steaming broth. I could eat more again today.
Peter Barrett is Chronogram's Food and Drink Editor. Read about more of his culinary adventures at his cookblog.