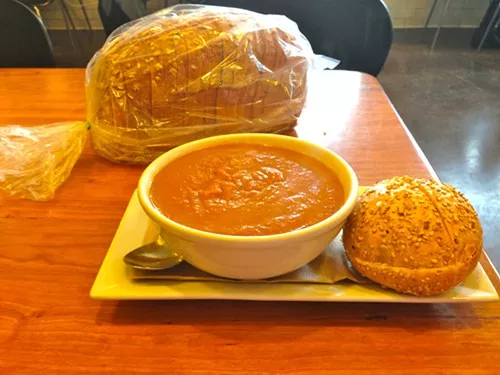 Carrot Ginger Soup at Bread Alone in Woodstock
Stone Soup Food Company in Kingston lists their delicious soups of the day on their website. If you go, try their vegetarian chili—it's hearty, filling, and always on the menu.
Bread Alone Cafe in Woodstock, Boiceville, Rhinebeck, and Kingston serves up fresh soup daily, and you can also buy your bread for the week too.
Duo Bistro serves a different vegan soup everyday and they usually have a non-vegetarian soup too. I had the beet soup the other day, which was served hot and sweet. My other favorite soup there is the chickpea puree.
Sunfrost Farms in Woodstock has amazing soups daily and a busy juice bar. My favorites are the tofu vegetable and the Caribbean kale. They also have really good chicken and rice soup.
Bistro to Go in Kingston—I had the spinach and chickpea Mediterranean broth here recently, which was really good. You can also buy larger containers of their soup to cook at home later. My favorite is the potage de poisson—thick fish soup.
Red Hook Curry House in Red Hook has the best mulligatawny soup in the Hudson Valley, and in NY in my opinion! We have stopped going to the Sunday night buffets here because the soup is so spicy and intoxicating that I end up having at least 2 bowls of it, and I get over-stuffed with the rest of the delicious Indian food. Indian food is my weakness, and overnight heartburn is the price I pay for it.
Right behind the ready-to-eat food counter in the back of Kingston's Mother Earth's Storehouse you will find two large kettles of homemade soup.
Lucky Chocolates in Saugerties is on vacation until January 25th, but they make interesting soups during the winter.
At Yum Yum Noodle Bar in Kingston and Woodstock, the cooks prepare delicious noodle soups right in front of you. You get to pick your noodle type, protein, and broth. I usually go for the miso and tofu combo with rice noodles. The soups are very hearty and they have kid portions too.
Garden Cafe in Woodstock has delicious vegan soup. At one of their Monday night buffets last year, I had a delicious creamy coconut soup that had a hint of banana in it. Unfortunately, they don't have the buffets anymore, but the soup is still souperb!
Hudson Valley Good Stuff is a blog writer Vanessa Ahern started in 2009. She writes about where to eat, play, and recharge your spirit in the Hudson Valley.