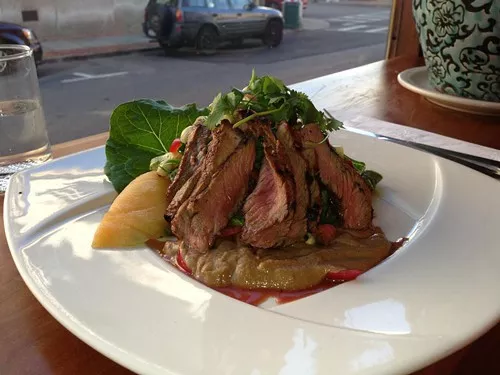 Steak stir-fry with peanut sauce
Meatballs over linguini special at Duo Bistro
I would eat at Duo Bistro every day if I could. Duo Bistro & Bar in uptown Kingston opened in April 2012, and has many loyal regulars among the people who work or do business in Kingston. When I went in last Thursday for lunch, meatballs over linguini was one of the lunch specials. I'm really hoping they put it on the regular menu because they were the best meatballs I have ever tasted. My husband Tom is campaigning to have the steak stir-fry with peanut sauce special appear on the regular menu. I've tried almost everything on the lunch and dinner menu now, and have relished it all. I also love the inventive vegan soup of the day.
On New Year's Eve, Duo Bistro will be joining other Kingston businesses in Uptown Kingston's 1913 New Year's Eve Celebration. To help keep revelers awake and well-fed, Duo Bistro will be open for breakfast on New Years Day from midnight to 3am. I'm not going to be able to make the New Year's Day breakfast, but I am looking forward to many more Duo Bistro meals in 2013. Duo Bistro, 50 John Street, Kingston, NY (845) 383-1198
Find out about more Hudson Valley Good Stuff at Vanessa Ahern's blog, HudsonValleyGoodStuff.com.