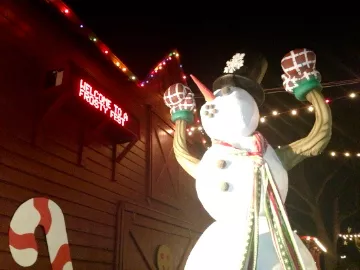 Giant Frosty at A Frosty Fest
A Frosty Fest in Ulster Park is a great place to get your family into the holiday spirit. Located at Headless Horseman Hayrides, a venue known for its lavish seasonal spectacles, the transformed park looks, feels, sounds, and smells like Christmas! At every turn, there is a Christmas display or snowman. You'll get photo opportunities with Rudolph the Reindeer, Frosty the Snowman, Mrs. Frosty, and the gingerbread man. We went into Frosty's 3-D Adventure, a maze with day-glo walls that reminded me of a low-budget Disney ride. (They hand you 3-D glasses when you go in). It's a short maze so you won't get too claustrophobic.
The highlight of the visit was Frosty's Hayride which took us through Frosty's Enchanted Forest, passing by all kinds of animated holiday displays while Christmas music piped in through speakers. Like I said, if a trip through A Frosty Fest doesn't make you realize that it's the holiday season and Christmas is upon us, then I don't know what will. A Frosty Fest was crowded on Saturday night, but the line for the hayride moved very quickly. We only had to wait about five minutes.
The only thing we didn't do was visit the North Pole where Santa was greeting kids inside. It looked kind of crowded, and we were ready to head home. A Frosty Fest is a great family date night idea during the holiday season. It's $10 for adults, and $8 for children 11 and under. Free for 1 year and under. A Frosty Fest, 778 Broadway Broadway, Ulster Park, NY (845) 339-2666
Visit HudsonValleyGoodStuff.com to find out where to eat, play & recharge your spirit in the Hudson Valley.